H & B Shenzhen Exhibition
H & B Shenzhen Exhibition
Group photo
H & B Shenzhen Exhibition
The H & B Shenzhen Exhibition showed people a lot of representative art supplies sets, which were liked by people from all over the world, and many people also specially came to watch our exhibition.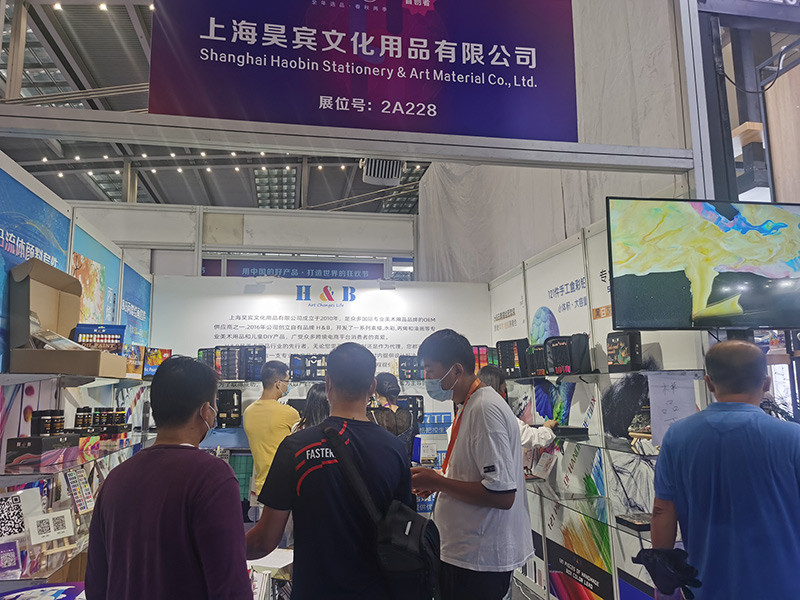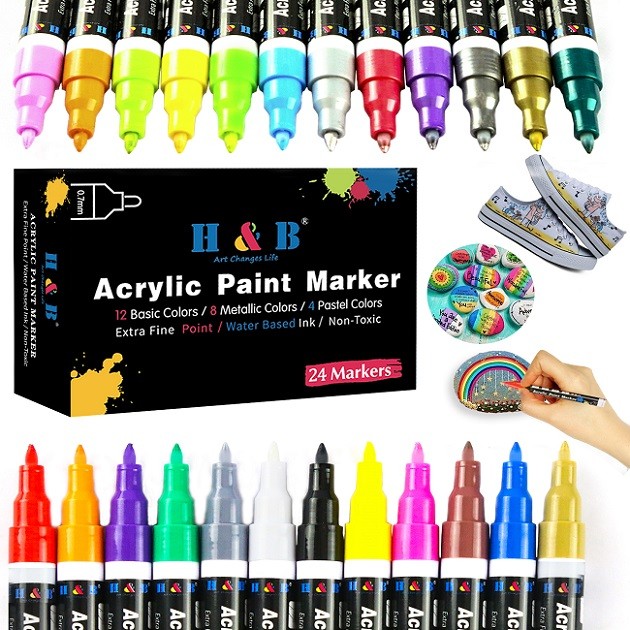 H & B 24 acrylic paint markers:
H & B 24 acrylic paint markers include-each set contains 24 colors of acrylic marker pens, which are used to refine and fill large areas, and the pens are durable. H & B 24 acrylic paint markers are great ideas for Christmas gifts. They are the first choice acrylic paint markers for kids, allowing them to express their imagination. Add color to your life and create decorative products for birthdays, Easter, Christmas, Valentine's Day, Thanksgiving or special holidays.
Multi-purpose-enjoy creating art projects on various surfaces, such as petroglyphs, ceramic and cup paintings, wood, fabric, stone, metal, plastic, canvas, Christmas decorations, Halloween pumpkin paintings, custom cups, and more Smooth and porous surface.
The characteristics of acrylic markers-quick-drying, non-toxic, no peculiar smell; water-based and opaque ink; permanent appearance of waterproof and sunscreen when dry, but easy to clean when still wet.
H & B 96 colored pencil kit
:
It's definitely a pleasure to use." This selection of 96 high-quality colored pencils has quickly become the "pencil of choice" for thousands of artists and colorists who dream of creating exquisite works of art in this popular medium. The rich, velvety refills of
H & B 96 colored pencil kit
are highly pigmented and can be painted with a lot of bright colors with minimal effort, making these easy-to-use pencils an absolute must-have! The blending and layering qualities you can really rely on! We Knowing that you need colored pencils, it allows you to add depth by layering, create beautiful blending effects such as gradients or achieve perfect shadows. The composition of our color core allows you to achieve these effects effortlessly and make them work It's a pleasure to look up and create a proud result.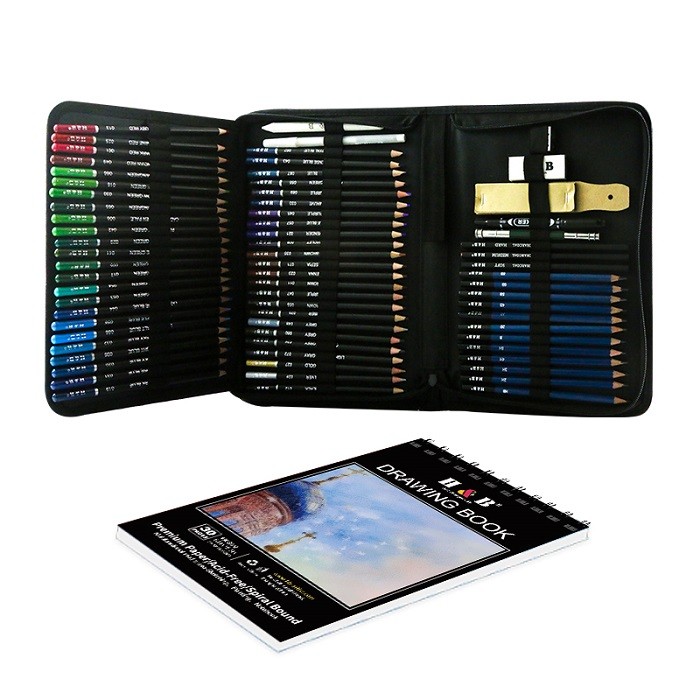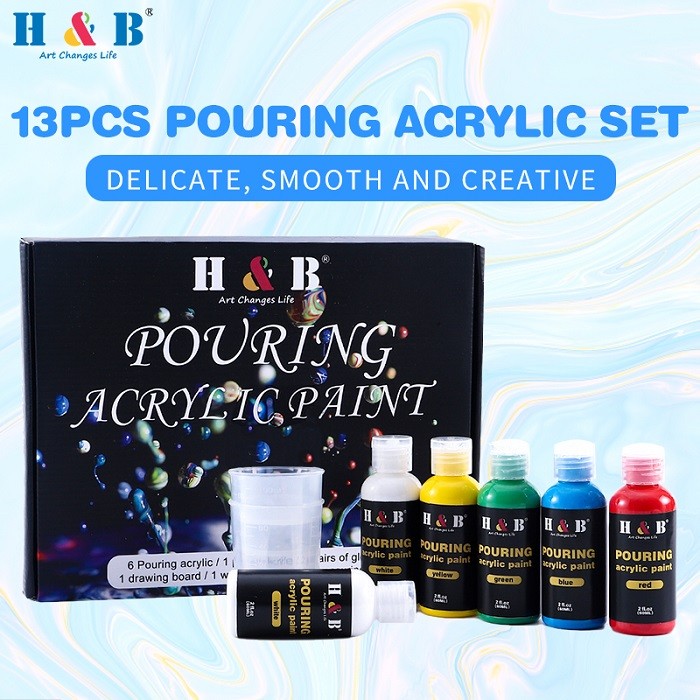 H & B pouring acrylic paint set 13
:
Quality: These acrylic paints are water-based, have a silky texture, and are easy to mix and layer. They have good coverage, and a little paint can play a big role on your surface.
Multi-purpose paint: Acrylic paint used for art dries quickly, and remains excellent, permanent, waterproof and fade-resistant on the surface, suitable for most surfaces, such as glass, rocks, nails, walls, canvas, leather, ceramics , Wood, clay, crafts and more, very suitable for art beginners, enthusiasts, professional artists, students, etc.
Non-toxic: non-toxic and acid-free, safe and suitable for all ages.
Service Guarantee: Your satisfaction is our top priority, please rest assured to buy our products. If you are not satisfied with our products or have any questions, please feel free to contact us.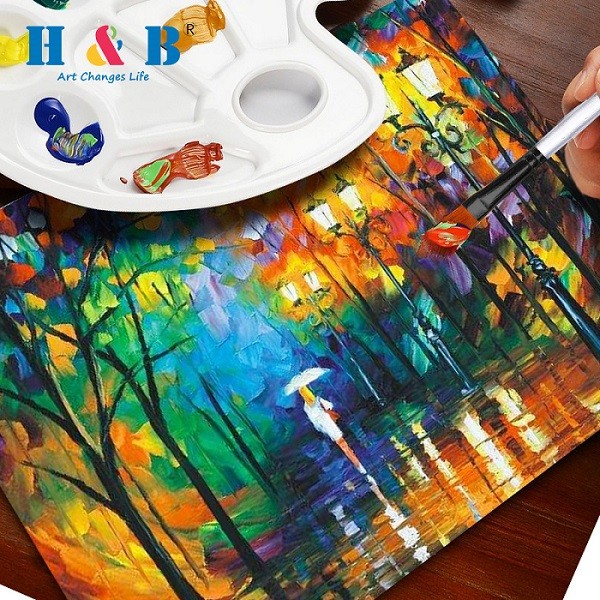 Our ART products



H & B 50 sketching pencils kit europe

H & B 72 colored pencil set

H & B 40 pcs professional solid watercolor set

H & B 12 watercolor colored pencils set

H & B 40 Sketching Pencils Set For Beginners

Contact: You can enter your email address and relevant information to get in touch with us, or call 86-17316430244, and you can go directly to Alibaba or Amazon to search for our products to purchase.