One Of The OEM Suppliers Of International Professional Art Brands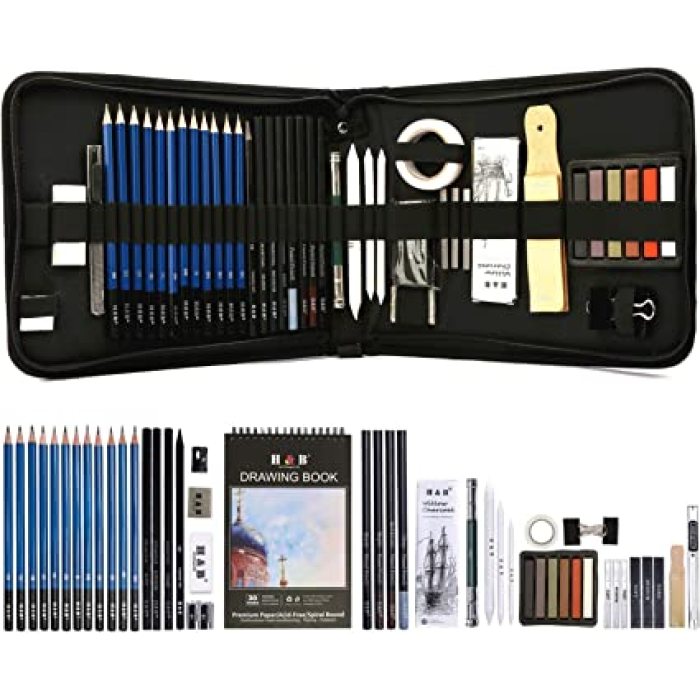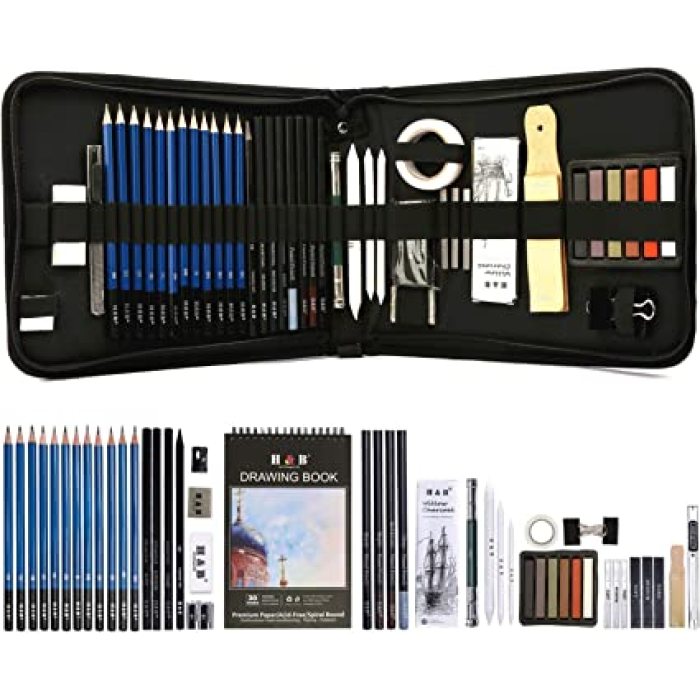 H&B 48PCS Pieces Sketch Color Lead Set pencil drawing ideas
China H&B51 component drawing color lead set art painting painting carbon pen sketch lead set professional OEM custom
About Art Kit Project Introduction:
51PCS Sketch Drawing Kit: Sketch pencil set 51pcs, namely 12pcs graphite pencils, 1pcs wood-free graphite pencils, 3pcs charcoal pencils, 4pcs pastel pencils, 1pcs pencil extender, 1pcs plastic pencil sharpener, 1pcs Two hole pencil sharpener, 1 small tool, 1 plastic eraser, 3 mixed paper stakes, 1 masking tape, 1 eraser, 3 charcoal sticks, 3 graphite sticks, 4 charcoal wicker sticks, sandpaper nibs 1, 2 binders, 6 crayons, 1 sketchbook, 1 carrying case with pop-up stand.
Upgraded Sketchbook: Our A5 sketchbook has 30 pages, we use activity pages, it is more convenient when drawing, we provide premium paper pad notebook, you can focus on training your drawing skills or sketching.pencil drawing ideas
51 pcs sketch color lead pencil set parameters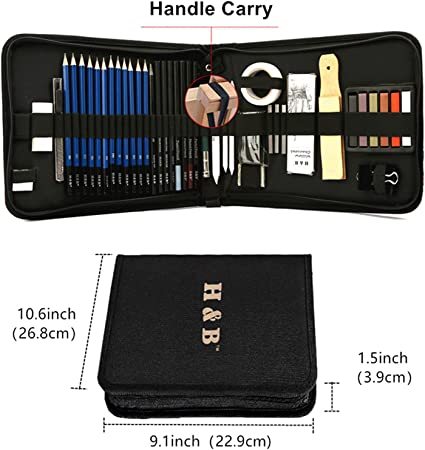 | | |
| --- | --- |
| brand: | H&B |
| model: | |
| category: | art set |
| ink color: | ink color Black |
| Material: | graphite, charcoal |
| point type: | Moderate |
| Package Size: | |
| Safety: | non-toxic |
| number of units: | 48coun |
| Included components: | storage box |
| figure: | Rectangle |
| OEM production: | accept |
Wide range of uses: graphite pencils in 2H3H, 4H, 5H, HB, B, 2B, 3B, 4B, 5B, 6B to 8B for precise line drawing, charcoal pencils and charcoal sticks, graphite sticks come in 3 hardness: soft, medium and hard. Art pencils for drawing and coloring allow you to develop technical skills. For beginners or professional artists.
High-quality pencils: sketching pencils made of raw materials such as logs, high-purity graphite, and pressed carbon cores. Precise pressing and blending technology for all types of pencils.
Offers Possibility: Maybe you are worrying about what gift to give to your kids, family, friends, etc. If they love drawing or art, our drawing pencil set is for you.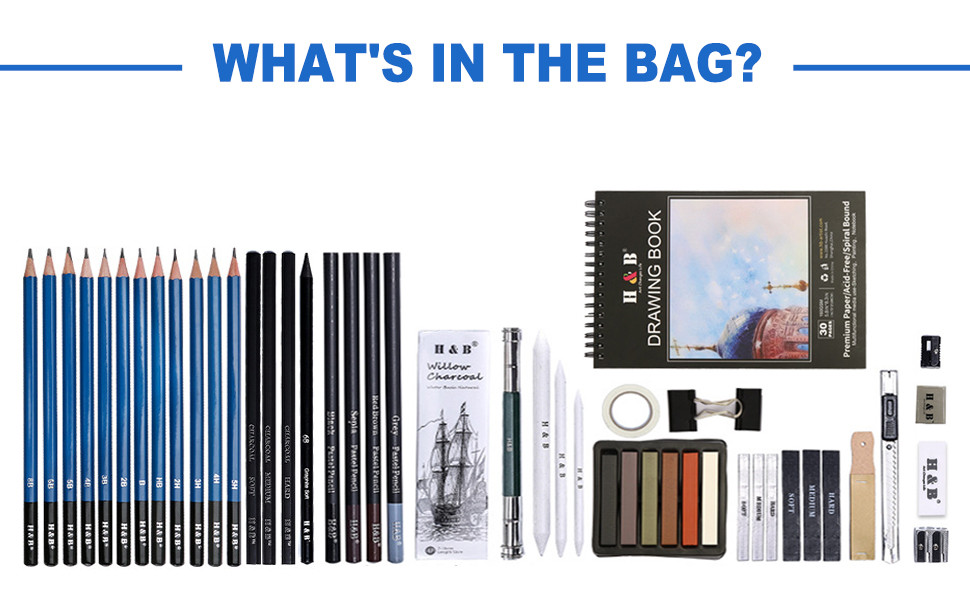 Drawing and Sketch Kit 51-piece contains:
12 x graphite pencils(2H, 3H, 4H, 5H, HB, B, 2B, 3B, 4B, 5B, 6B, 8B)
1 x woodless graphite pencil
3 x charcoal pencils
4 x pastel pencils
1 x pencil extender
1 x plastic sharpener
1 x double-hole sharpener
1 x small tool
1 x plastic eraser
3 x blending paper stumps
1 x masking tape
1 x kneaded eraser
3 x charcoal sticks
3 x graphite sticks
4 x charcoal willow sticks
1 x sandpaper pencil point
2 x binder clips
6 x colored pastel sticks
1 x sketch pads
1 x carrying case with pop-up stand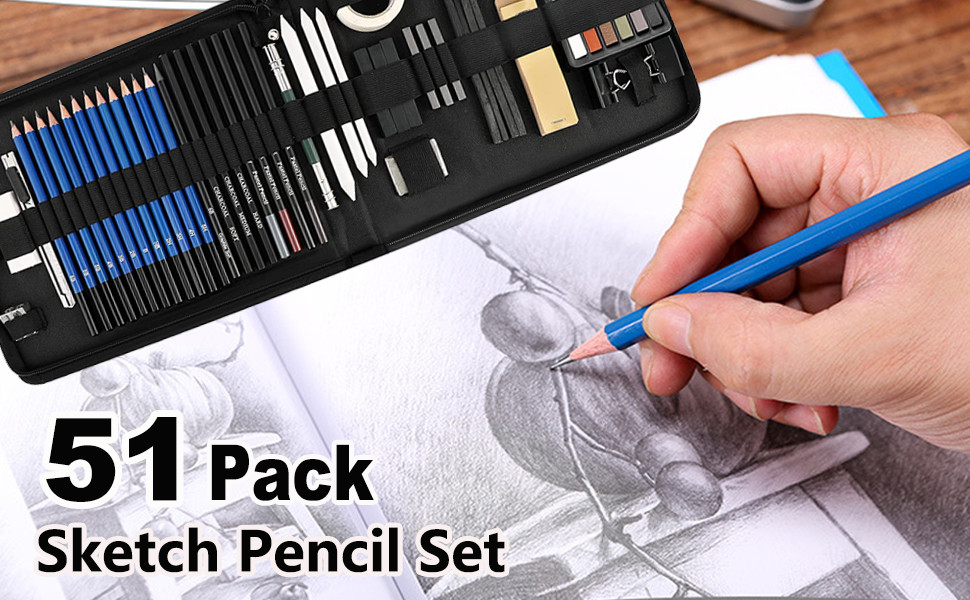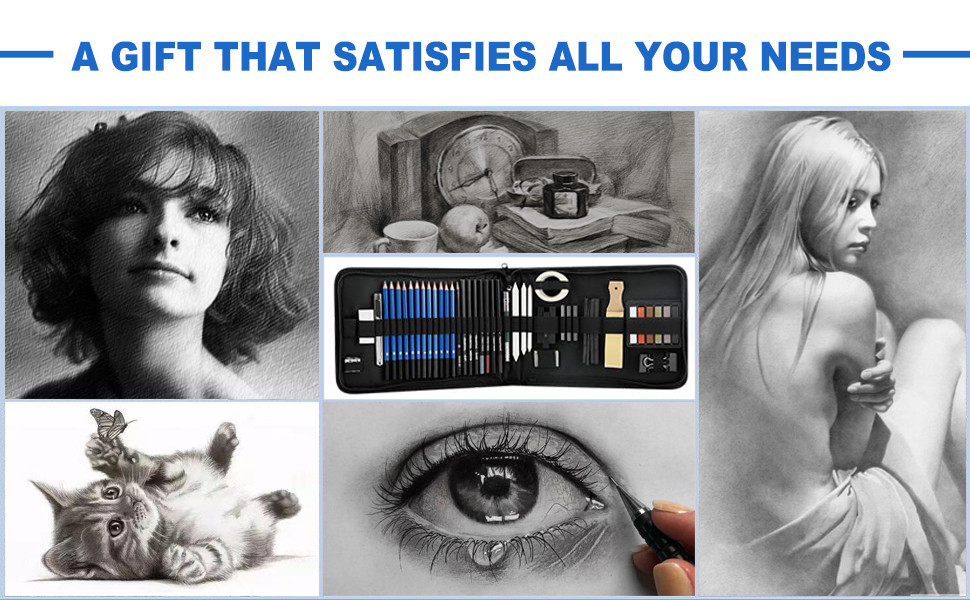 Please send your message to us
H&B has a perfect supply chain solution. While providing you with high-quality products and services, we also focus on your business and help you achieve long-term value goals. Please let us know how we can help.