One Of The OEM Suppliers Of International Professional Art Brands
Home
/
All
/
Sketch Pencil
/
H&B Sketch Pencil Set for kid Color Sketch Pencil Art Set easy pencil drawings for wholesale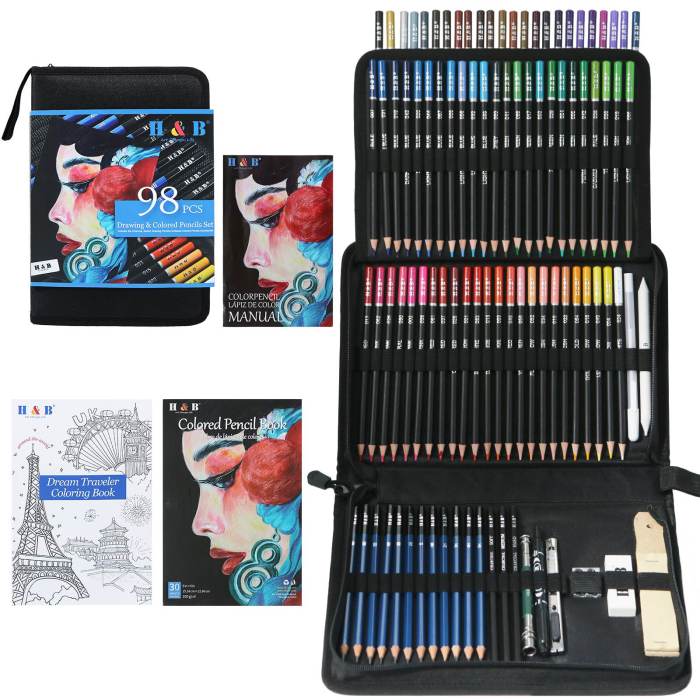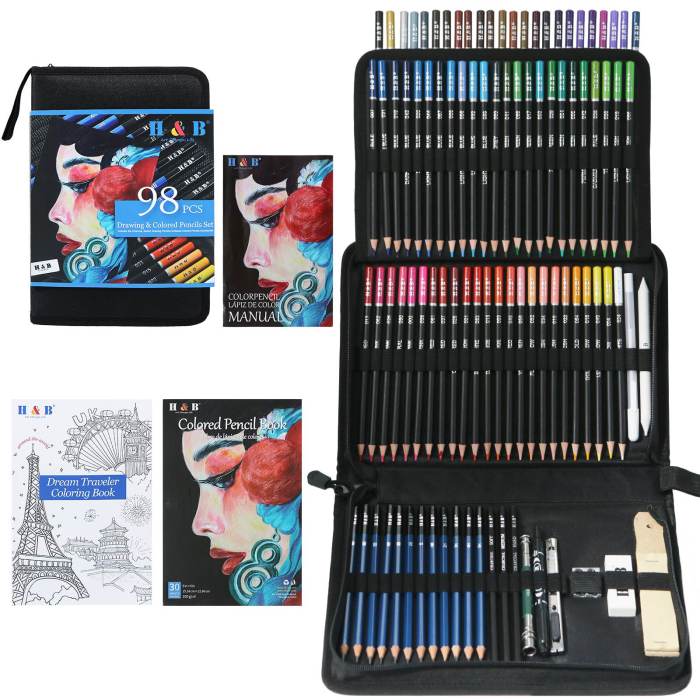 H&B Sketch Pencil Set for kid Color Sketch Pencil Art Set easy pencil drawings for wholesale
China H&B Sketch Pen Set Wholesale Art Color Sketch Pencil Art Set OEM Customized Manufacturer
About this art painting kit project:

PRO COLOURING PENCILS SKETCHING PENCIL SET: Artist Set includes 72 Oil Based Coloured Pencils,12 Sketch Pencils,3 Charcoal Pencils.Each art pencil is labeled & numbered for easy color identification.Art Pencils are well made, with no broken leads and write really smoothly.Vibrant colors provide smooth coloring, can layer, blend, shade and add detailing.
EXTRA DRAWING SET ACCESSORIES:Drawing Pencils Sketch Set accessories along with 1 vinyl eraser,1 double-headed pencil extender,1 paper blending stumps, 1 sandpaper block,1pc dual tip brush pen,1pc metal pencil tool with 2 holes ,1pc art pencil tool ,1pc white gel pen.Ideal for anyone that likes to draw as contains everything you could ever need. pencil drawings
98 pieces of sketch color lead set parameters: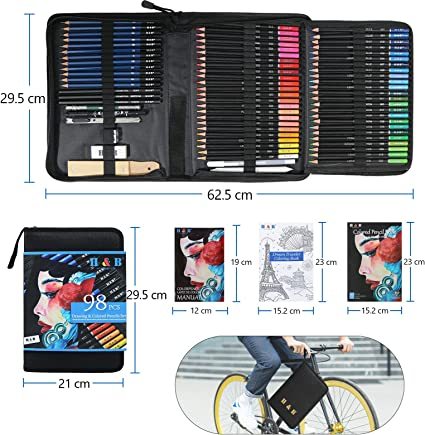 | | |
| --- | --- |
| brand: | H&B |
| model: | HB-ZT58 |
| category: | art set |
| ink color: | ink color Black |
| Material: | graphite, charcoal |
| point type: | Moderate |
| Safety: | non-toxic |
| number of units: | 1 coun |
| Included components: | storage box |
| figure: | Rectangle |
| OEM production: | accept |
| Package Size: | 31.6 x 26.3 x 5.9 cm; 1.05 kg |
| Packaging Materials: | nylon bag |
Premium Art Supplies Pencil Set with Colored Pencils and Dream Travel Coloring Book: Colored Pencils - 6 x 9 Inch (15.2x23cm), 100GSM, 30 Vimo. Coloring Book - 6 x 9 inches (15.2x23 cm) ), 10 countries Line art allows creatives who love to travel to enjoy traveling the world while drawing. Suitable for beginners and artists. Painted with Ikarimoto Princess can use select painting materials. Can meet your different needs.
"Peking Opera Character Painting Method" seven-step colored lead and crayon tutorial: 14-page folding tutorial, detailed and easy to learn. It can give you comprehensive guidance and upgrade Huahua to a new drama. Watch it online in China. The paintings on the faces of traditional opera actors are used in the art of makeup and plastic arts for stage performances.
Comes in an easy-to-carry zippered case: This adult drawing set comes with a zippered pencil case. Each has a bungee slot inside for easy removal and replacement. The case is durable and holds the pencils well and keeps them tidy for travel and storage. The zipper works great and doesn't catch at all.
GREAT GIFT IDEA: This artist pencil sketch set is a great gift idea for Graduation, Birthday, Children's Day, Christmas, Thanksgiving, New Year. The perfect drawing pencils for artists, hobbyists, adults, beginners, kids, students, teachers, friends or family members who are learning to sketch or interested in drawing.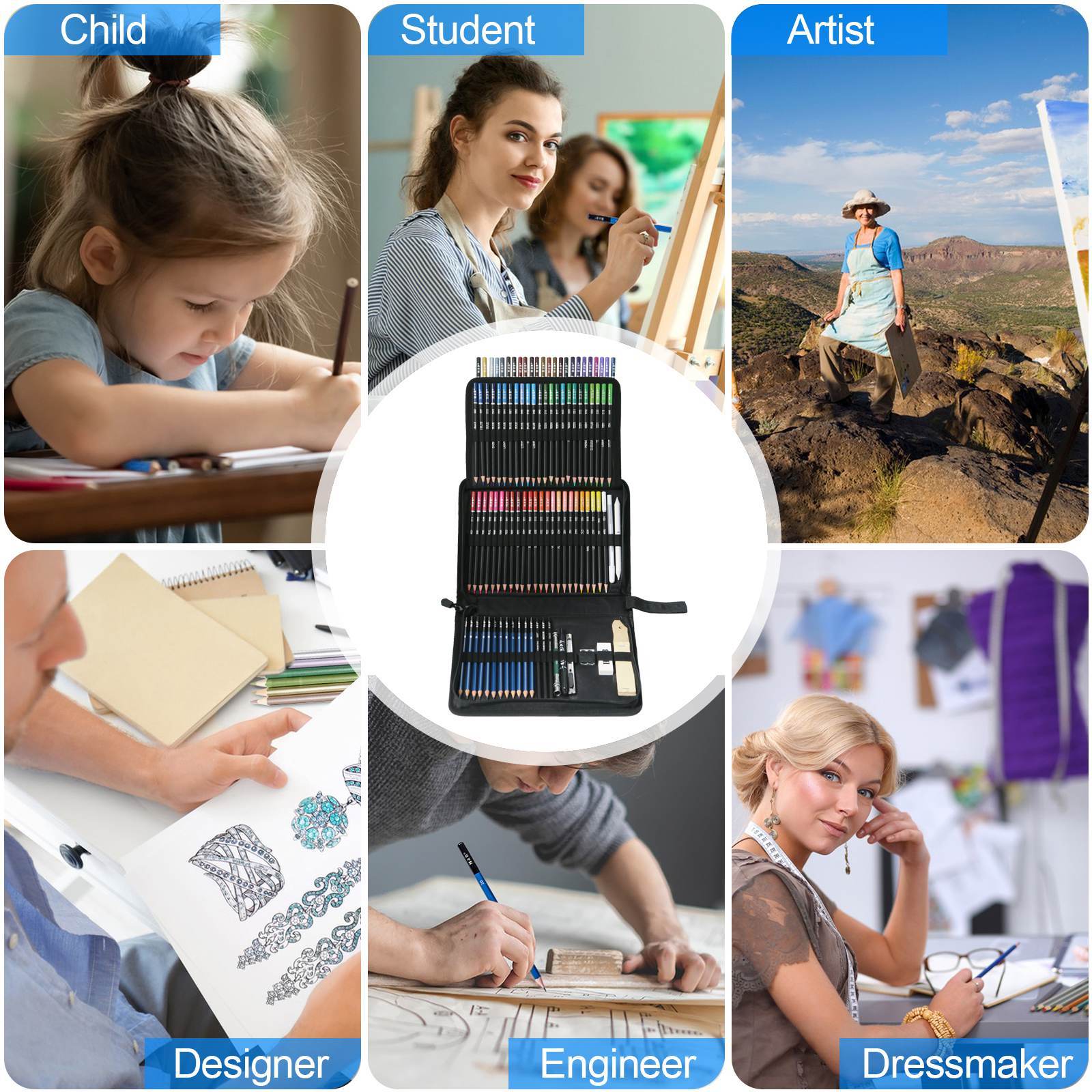 Material: Poplar softened board Features: No grease, no knots, fine wood grain, comfortable cutting, combined with SV anti-break bonding technology, the pencil is not easy to break
Packing: Zipper nylon bag, each pencil in the bag has a fixed position for easy access, and the whole set has a handle for easy carrying
Safety and environmental protection: the whole set of products are made of environmentally friendly materials (FSC forest certification \ EN71 EU environmental safety certification \ MSDS composition report, the factory passed the BSCI European certification enterprise)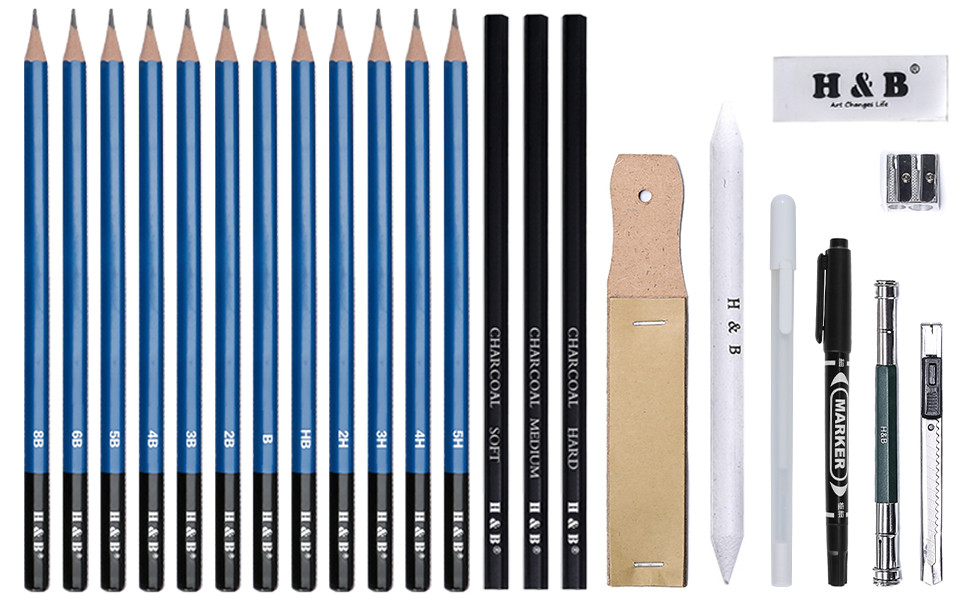 Charcoal: The lines have a strong sense of power, and the visual impact is stronger than that of a pencil, which can speed up the drawing.
Sketch Pencil: Provides options for sketching, shading and even filling in details.
Dual Tip Brush: 1-2mm brush tip for large area shading and coloring, 0.4mm fine tip for contouring, detailing.
White gel pen: can write on dark paper such as black paper and kraft paper. 0.8 mm fine point allows for detail drawing sketch coloring, illustrations, journaling, card making, scrapbooking, wedding invitations, photographs, black envelopes and other projects.
Blending Stumps: Soften lines, mix colors and create shadows, blur effects, paint textures and patterns where lines are finished, and you can also add a dull or soft effect to your drawing.
Sandpaper Blocks: Suitable for sanding pencils, crayons, charcoal pencils, crayons, etc., allowing you to sand these pencils into your favorite shape.
Pencil Extender: One end can be used to hold a standard pencil, and the other end can be used to hold an art pencil, very practical. When your pencil gets shorter after using it for a while, put it in the pencil extender to increase the length.
Metal Pencil Tools & Art Pencil Tools: The 2-hole metal pencil tools are safer for kids, and the art metal pencil tools are suitable for professionals.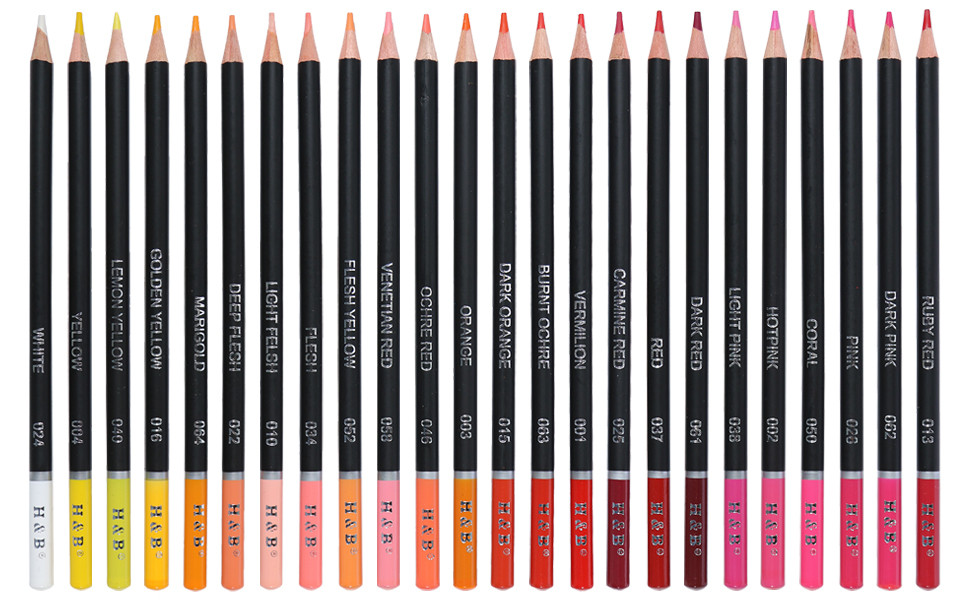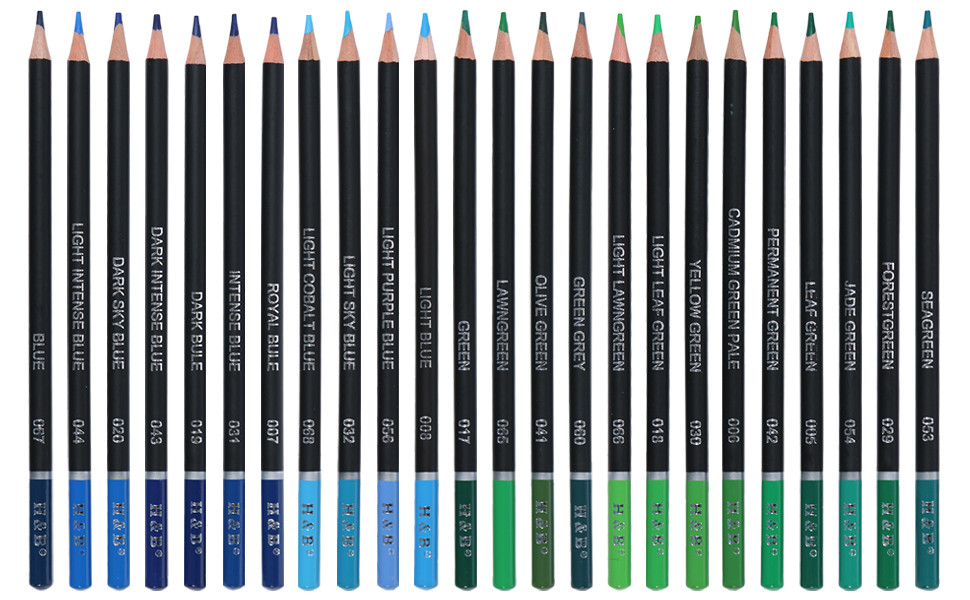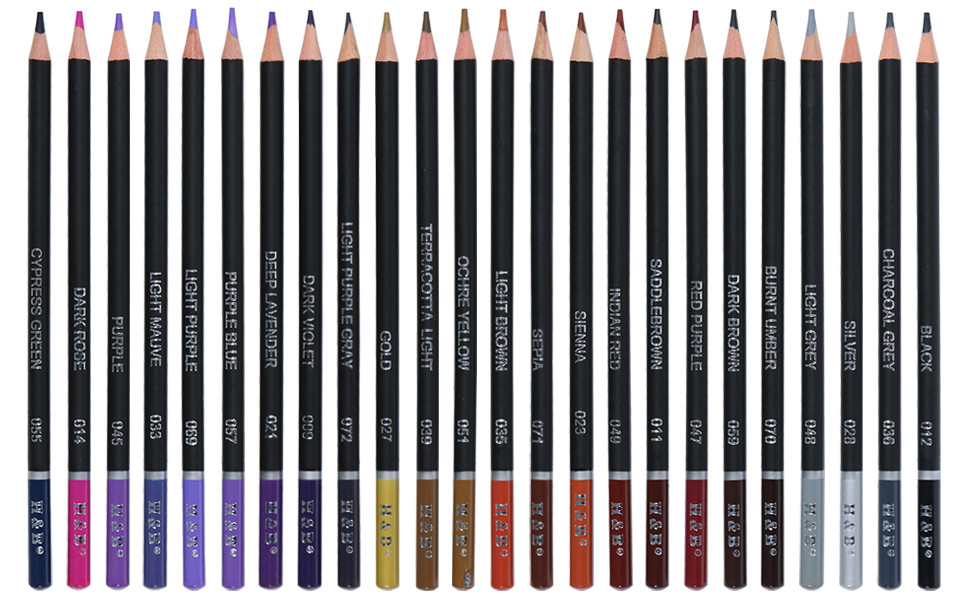 Coloring pencil set contains 72 different vibrant colors

Premium Pigments and Rich Colours Provide Smooth Colouring,
Perfect for Blending, Shading and Layering.
An Excellent Set With a Wide Range of Colours.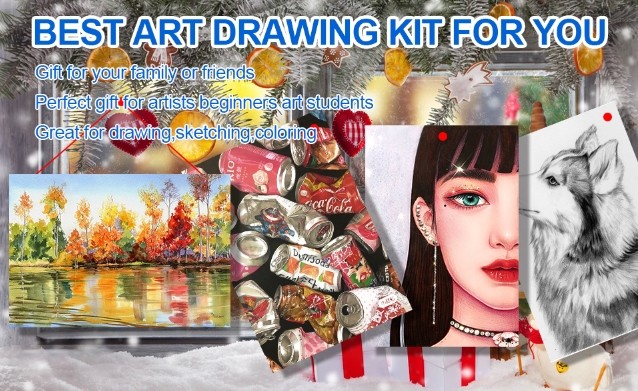 Please send your message to us
H&B has a perfect supply chain solution. While providing you with high-quality products and services, we also focus on your business and help you achieve long-term value goals. Please let us know how we can help.