One Of The OEM Suppliers Of International Professional Art Brands




H&B 33pcs Sketching Pencils Set For Beginners sketching pencils
H & B 33 sketching pencils set is very suitable for beginners to use, you can find them on Amazon and have discounts!
H&B 33pcs Sketching Pencils Set For Beginners sketching pencils

Brief description of H & B 33 Sketching Pencils Set
H&B 33 Sketching Pencils Set contains many small objects, a total of 33 pieces, which can meet your professional requirements and richness requirements for drawing. H & B Sketch Pencil Set 33 has many advantages. For example, it has up to 12 gray scales for you to choose from. It is fully functional. You can use it to write, draw and sketch. In addition, H&B Sketching Pencils Set 33 is very professional. When you use it for drawing or sketching, it does not reflect light and will bring you a wonderful visual impact.

sketching pencils


FAQ:

Is there a discount for purchasing H & B 33 pcs Sketching Pencils Set?
Yes.If you buy the H & B 33 pcs Sketching Pencils Set, you can enjoy a certain discount. H & B will launch some discount activities from time to time. If you buy sketching pencils set during the event, contact our customer service to enjoy more and bigger discount.
Where can I buy the H & B 33 pcs Sketching Pencils Set?

At present, the H & B 33 pcs Sketching Pencils Set has been sold in many countries. You can go to Amazon, eBay, Alibaba, or AliExpress to purchase related products, and you can also visit the official website for details.

H & B 33 pcs Sketching Pencils Set USA combination:

12 drawing pencils 8B, 6B, 5B, 4B, 3B, 2B, B, HB, 2H, 3H, 4H, 5H
3 carbonized pencils soft (SOFT), medium (MEDIUM), hard (HARD)
1 graphite pencil 7.2*175mm 6B
3 double-headed solid paper pens (large, medium and small)
3 graphite strips (6B, 2B, HB)
3 carbon strips (soft, medium and hard)
1 green double-head extender (printed with H&B logo)
1 utility knife
1 piece of white rubber (printed with logo)
1 piece of soft rubber (printed with logo)
1 large sandboard
1 A5 sketchbook
1 single-hole plastic pen sharpener
1 double-hole metal pen sharpener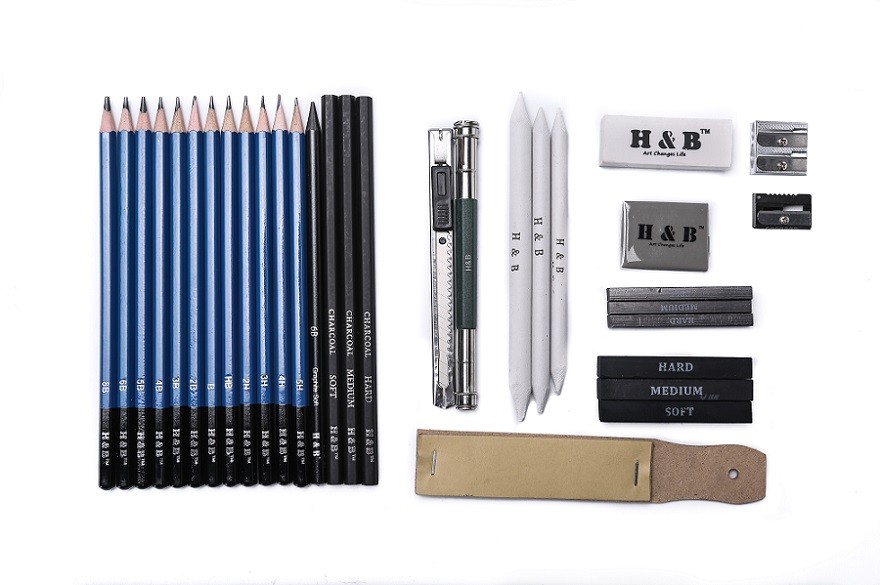 H&B 33pcs Sketching Pencils Set For Beginners sketching pencils

Payment:

Paypal

MOQ:

2sets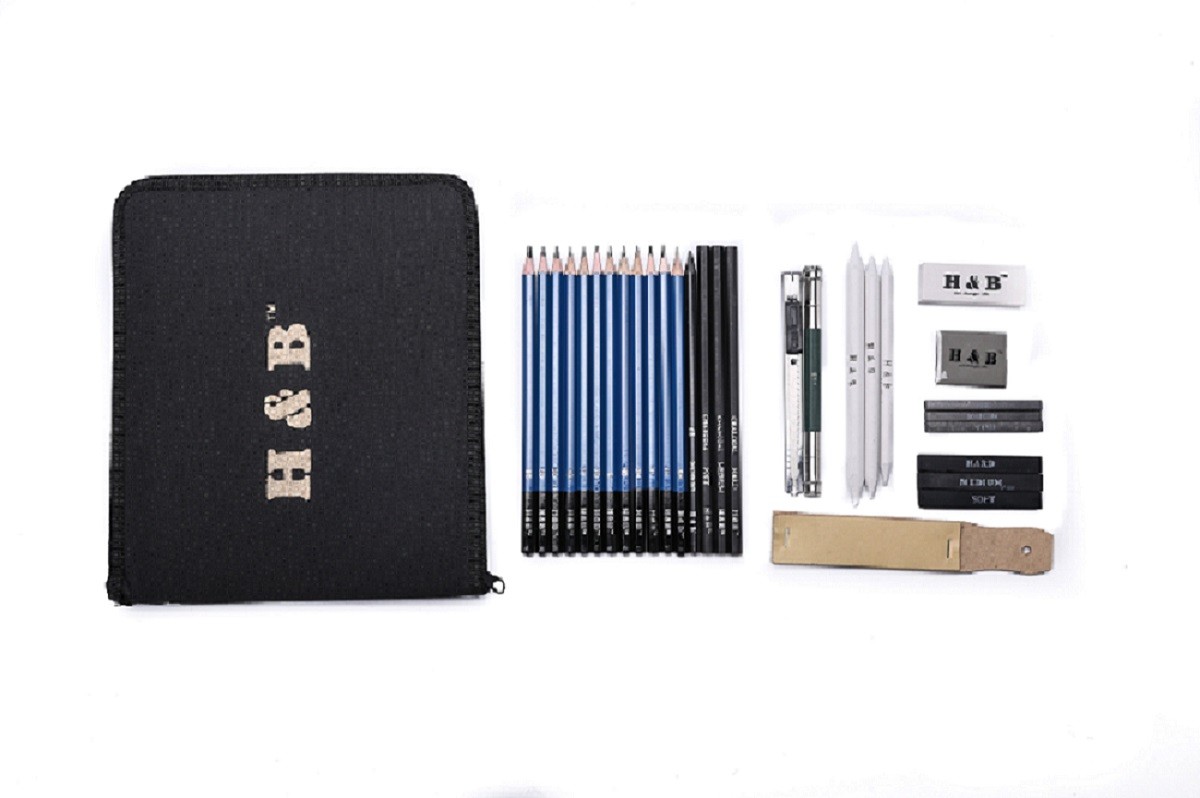 Beginner-Friendly Selection: This set includes a carefully curated selection of sketching pencils, handpicked with beginners in mind. It offers a variety of pencil grades, ranging from hard (H) to soft (B), allowing you to experiment with different shades and techniques as you learn and progress.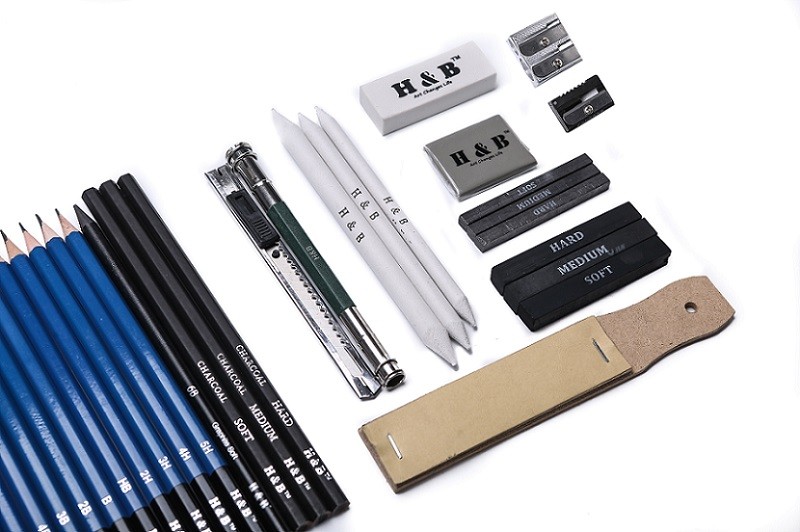 Smooth and Consistent Lines: Each pencil in this set is crafted with high-quality graphite that ensures smooth and consistent lines. Whether you're sketching detailed portraits, capturing landscapes, or exploring abstract concepts, these pencils provide excellent control and precision.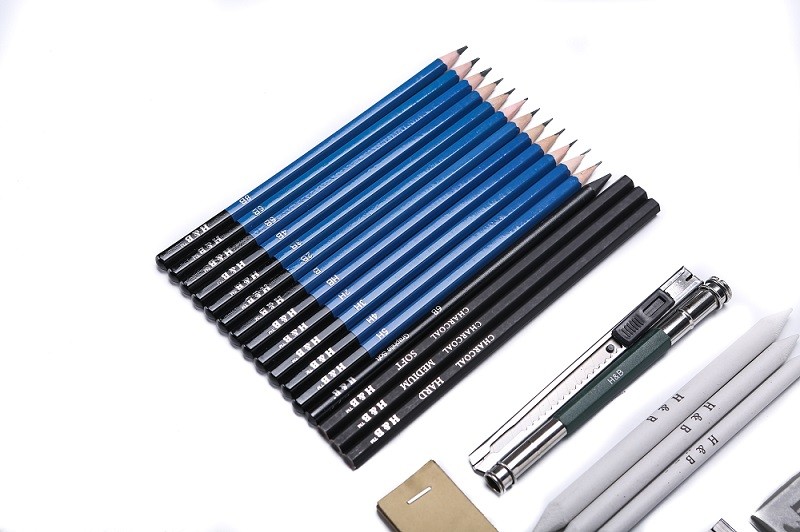 Versatility and Adaptability: The H&B 33pcs Sketching Pencils Set is perfect for a wide range of sketching techniques. Whether you're practicing hatching, cross-hatching, shading, or creating intricate textures, these pencils are versatile enough to bring your artistic vision to life

Please send your message to us
H&B has a perfect supply chain solution. While providing you with high-quality products and services, we also focus on your business and help you achieve long-term value goals. Please let us know how we can help.