One Of The OEM Suppliers Of International Professional Art Brands
Home
/
All
/
Sketch Pencil
/
Chinese painting pencil 36 pieces sketch drawing lead set OEM custom drawings pencil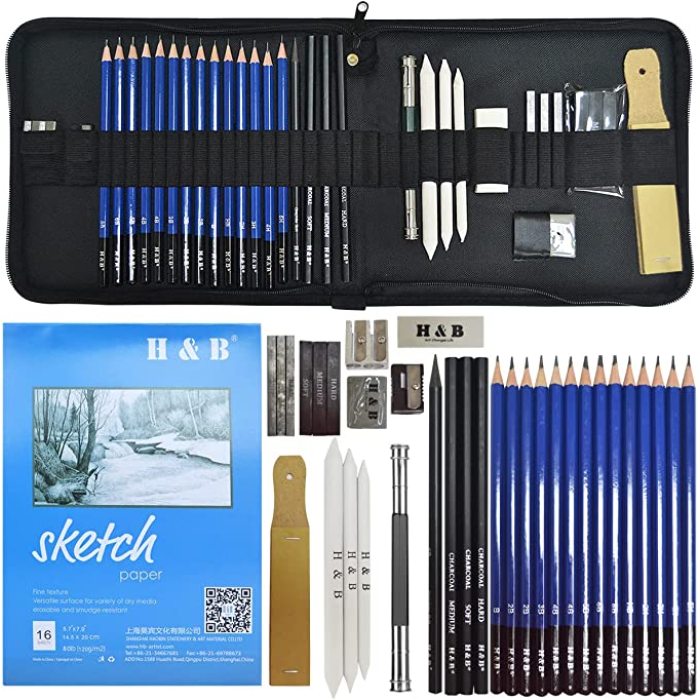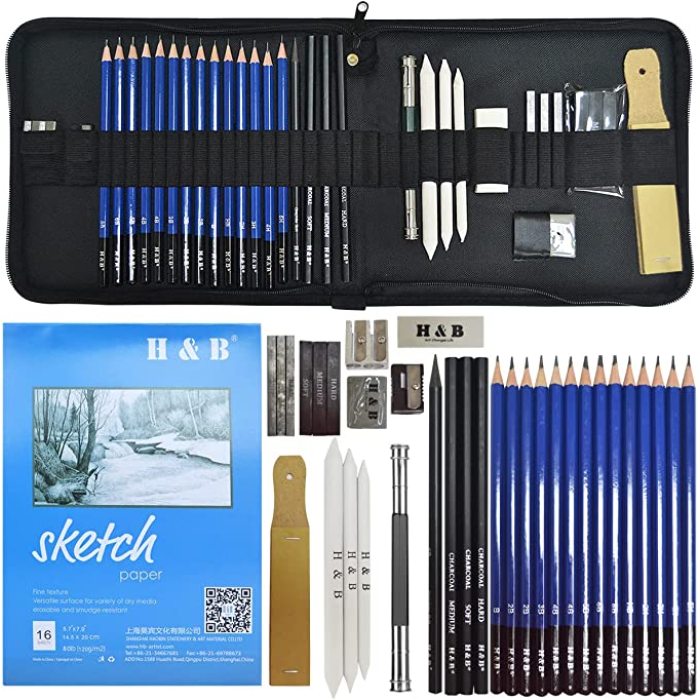 Chinese painting pencil 36 pieces sketch drawing lead set OEM custom drawings pencil
Chinese painting pencil 36 pieces beauty technology transfer to sketch drawing lead set OEM custom factory
About this art painting kit project:

36 Pieces Drawing Pencil Set -- Sketching pencil set, with various drawing pencils of different hardness, 14 graphite pencils ranging from 5H to 8B, 1 wood-free graphite pencil, 3 graphite sticks, 3 charcoal pencils, 3 Charcoal sticks, 3 mixing stumps, 2 erasers, 2 pencil sharpeners, 1 pencil extender, 1 sandpaper block, and 1 sketchbook (16 sheets), all organized in a sturdy Comes in a sturdy pencil case made of black nylon.color pencil drawing

36 Pieces Sketching Pencil Set Parameters: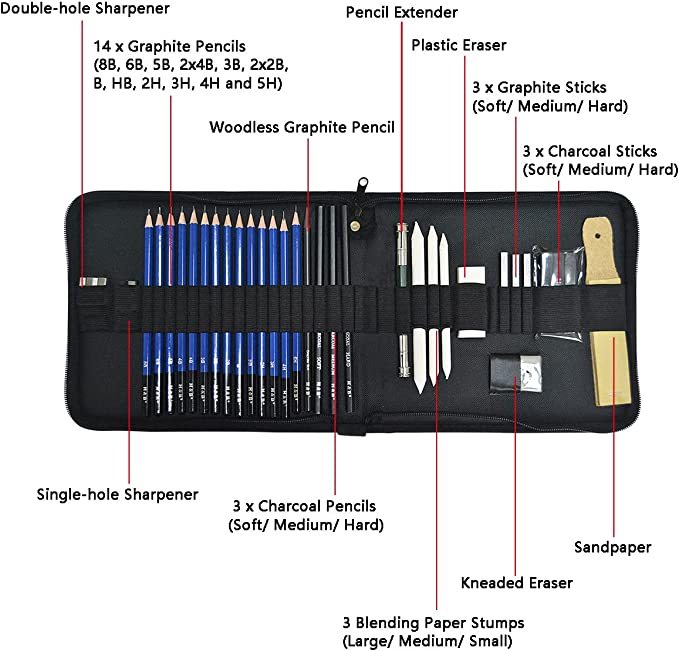 | | |
| --- | --- |
| brand: | H&B |
| model: | HB-ZT76 |
| category: | art set |
| ink color: | ink color Black |
| Material: | graphite, charcoal |
| point type: | Moderate |
| Safety: | non-toxic |
| number of units: | 1 coun |
| Included components: | storage box |
| figure: | Rectangle |
| OEM production: | accept |
| Package Size: | |
Portable Art Set -- The professional artist pencil set is neatly arranged in a zipper case with handle, this drawing set is easy to carry, especially suitable for outdoor sketching, ready for you to use at any time.
PERFECT SOCK FILLER -- Beginner sketching and painting set is perfect for art-hungry students, kids, teens and adults, also suitable for professional and amateur artists to create and design, the sketching set is a perfect painting gift for family and friends.
NON-TOXIC AND ECO-FRIENDLY - The art pencils for drawing and other drawing tools are made of environmentally friendly materials, acid-free and non-toxic, you can use this sketching pencil set with confidence.
100% SATISFACTION GUARANTEE -- For any quality problem, we offer free replacement or full refund. Any questions, please feel free to contact us.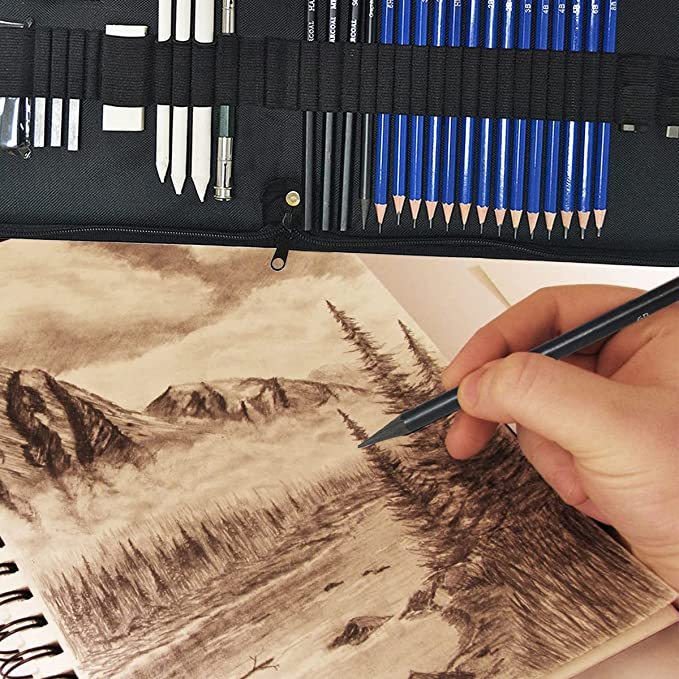 Material: Poplar softened board Features: No grease, no knots, fine wood grain, comfortable cutting, combined with SV anti-break bonding technology, the pencil is not easy to break
Packing: Zipper nylon bag, each pencil in the bag has a fixed position for easy access, and the whole set has a handle for easy carrying
Safety and environmental protection: the whole set of products are made of environmentally friendly materials (FSC forest certification \ EN71 EU environmental safety certification \ MSDS composition report, the factory passed the BSCI European certification enterprise)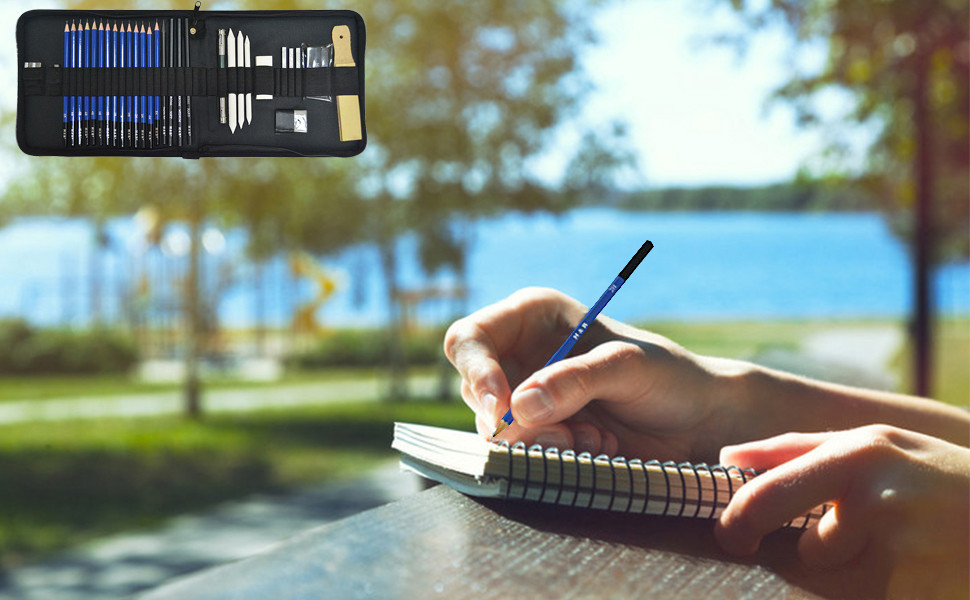 The H & B 36-Piece Drawing and Sketching Pencil Set contains:
14 x Graphite Pencils (1 x 8B, 1 x 6B, 1 x 5B, 2 x 4B, 1 x 3B, 2 x 2B, 1 x B, 1 x HB, 1 x 2H, 1 x 3H, 1 x 4H, 1 x 5H)
1 x Solid Graphite Pencil
3 x Graphite Rods (Soft, Medium, Hard)
3 x Charcoal Pencils (Soft, Medium, Hard)
3 x Charcoal Sticks (Soft, Medium, Hard)
3 paper stakes
1 x Kneading Eraser
1 x Plastic Eraser
1 x Double Hole Knife Sharpener
1 x Single Hole Sharpener
1 x Pencil Extender
1 x sandpaper
1 x artboard
1 pencil case
Pencil sketch set use scene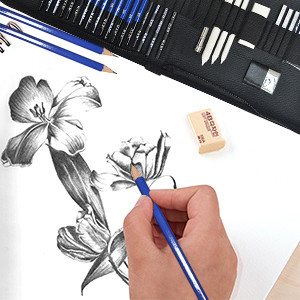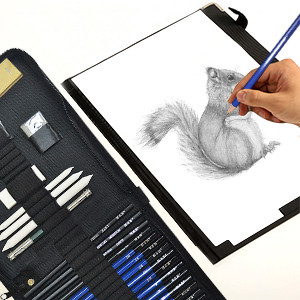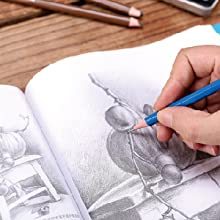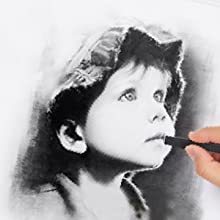 Please send your message to us
H&B has a perfect supply chain solution. While providing you with high-quality products and services, we also focus on your business and help you achieve long-term value goals. Please let us know how we can help.